This week, we have provided several Boomwhackers and Clap Happy dinner events. Boomwhackers are musical tubes that create instant melody and harmony when layered together. Clap Happy is our zany clapping activity using coloured rubber gloves. These are becoming increasingly popular because, instead of the predictable table quiz or another Scalextric competition, we get the room totally engaged, full of colour with teams being actively creative together.
Even though these activities are normally found in team building days or as conference energisers they also suit evening dinners perfectly because of their:
entertainment value
flexible duration
minimal equipment requirements
low cost
value of a surprise
linkage to business messages.
We expertly facilitate these events all around fun, invoking as much audience participation as possible. Especially after a glass of wine, participants always love to volunteer other colleagues for the many interactive roles required! Our activities get people talking and reacting with each other. Perhaps more importantly, they create hilarious team memories.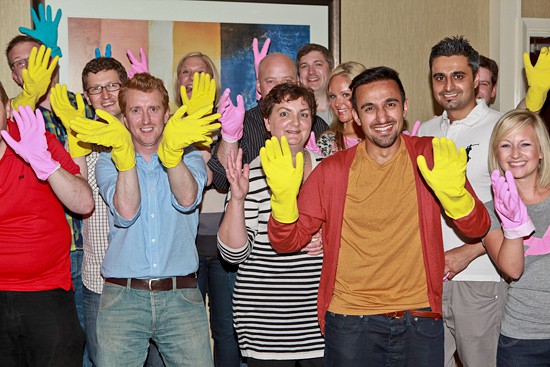 You can have these events during pre-dinner drinks, in between courses or even after dinner. We often deliver these activities as an instant blast of energy from 10 to 30 minutes so there is no disruption to the venue's service or your agenda.
With minimal equipment requirements, any size of room or seating configuration can work. So, you can entertain a tiny private dining room for ten as easily as a grand ball room for 1000. This flexibility is what makes these corporate dining options so popular.
In these days of counting the cost and being more budget conscious, both these events fit the bill perfectly. They bring you maximum impact and surprise but require minimal equipment and only one facilitator. So, while we still have great success with our larger-scale dinner events, such as Crashing Waiters, clients with more modest budgets can still have a fantastic creative experience.
An element of surprise can really enhance a dinner event. Always looking to add value and unique options to our events, both Boomwhackers and Clap Happy can be started with our 'spoof' introduction. This is the perfect rouse to first tease the diners and then to kick off the activity for real. By first introducing our facilitator as a bumbling university lecturer, there to deliver a talk on corporate communications, diners think that they are in for the dullest evening ever. However, our expert entertainer instantly changes into his normal extrovert self and gives the much-relieved diners the good news that it's going to be a very different experience indeed! From that moment on, everyone is whipped up into the usual high energy antics and the fun really begins.
As with all DrumPulse events, while these activities are creative and based around fun and a shared group experience, they also highlight important business messages about team work and leadership. So we can deliver all the light-hearted entertainment over diner but still relate to the next day's conference or the meeting people have had earlier on in the day.
All this with rubber gloves or plastic tubes!
For more information, please contact us.