If the purpose of a meeting energiser is to revitalise, change perspectives and be relevant to the theme of the day, there is nothing that is as effective as group drumming.
DrumPulse brings all the power, energy and excitement of drumming straight to your meeting, so that your team can feel and utilise its effect. Please contact us. We can provide a quote within an hour.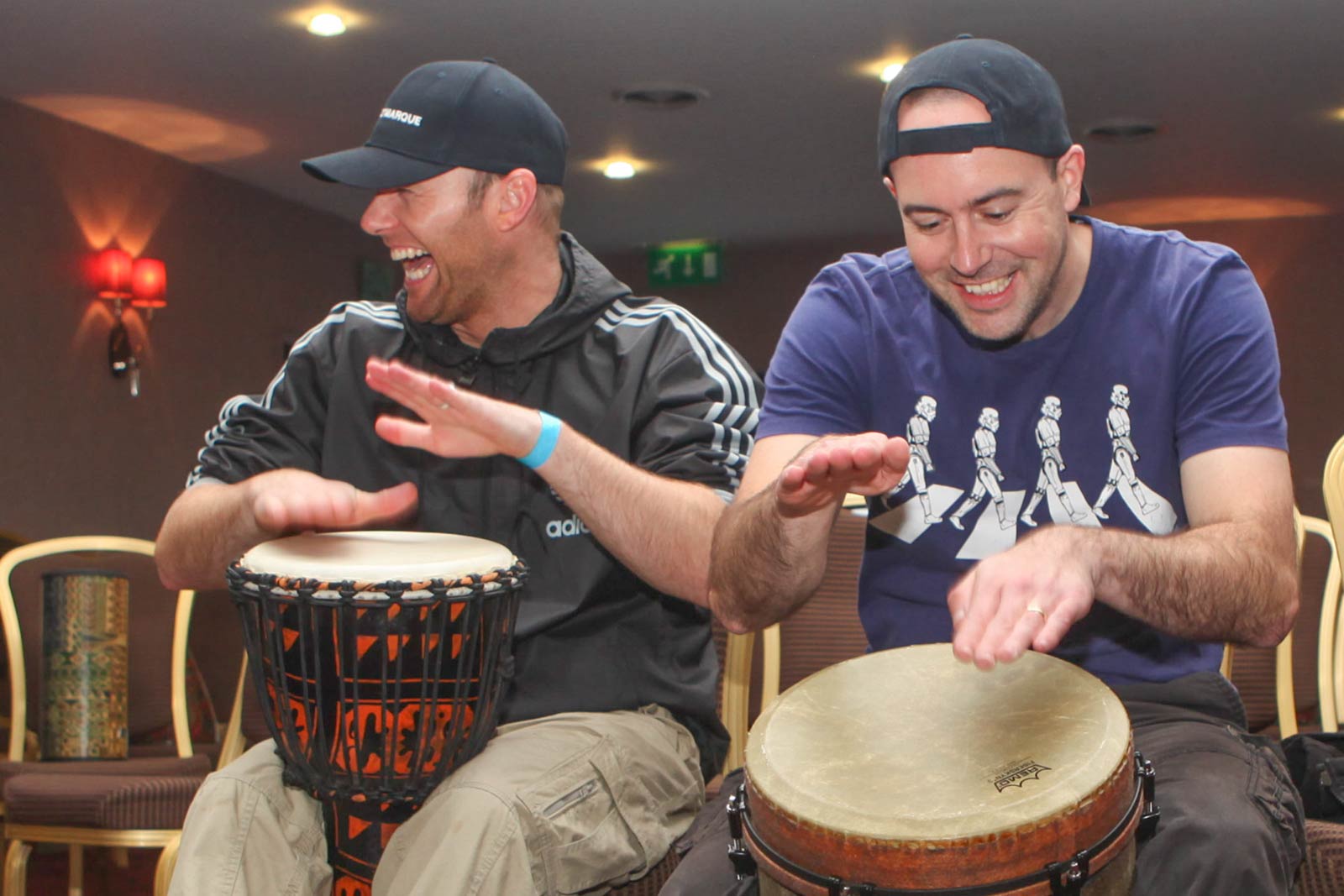 Meeting energisers using 15,000 years of experience!
Our confidence in the effectiveness of our drumming energisers comes not only from our 20 years of experience of delivering thousands of meeting energisers across the UK and worldwide, but also from around 15,000 years of evidence from every corner of civilisation!
Most temples, armies, village squares and theatres from the ancient world, right up to today's modern equivalents, use or have used some form of rhythmical entertainment to gather, lead and inspire people. As humans we innately react and are attracted to rhythm.
DrumPulse brings all the power, energy and excitement of this ancient art form to energise your team.
We make sure that your team is entertained, relaxed and open to new ideas. The learning that takes place doesn't ever feel like learning, due to the skills of our experienced facilitators.
So forget quizzes, table top puzzles or any other meeting energiser ideas. Nothing compares to seeing your team becoming a thunderous drumming community together. This is the original and most profound 'wake up call'!
Forget long briefings and boring 'off-the-shelf' formats
Your group will have the most intense, fun and profound experience possible, without the need for big, costly set ups, lots of space, long-winded briefings or tired 'off-the-shelf' formats.
We have kept fuss and technology down to an absolute minimum. We simply bring in a professional instrument for everyone and rely on the excellence, personality and expert leadership of our in-house facilitators. Your group will not believe the results, and will feel energised within minutes.
Our meeting energisers bring significant cost benefits too, as we can inspire and enthral small-, medium- and large-sized groups with very little expenditure and minimal accompanying staff and equipment.
Contact us about our meeting energisers
We would love to talk to you about how we could deliver a great meeting energiser for your own particular meeting, so please contact us now! We can provide a quote within an hour.
Other pages you may be interested in:
Drumming events  |  Haka  |  Boomwhackers  |  Clap Happy  |  Team Singing  |  Videos  |  Contact Us